GOTG
GOTG: Pro Dancer & Performance Coach Della Hamby
By
|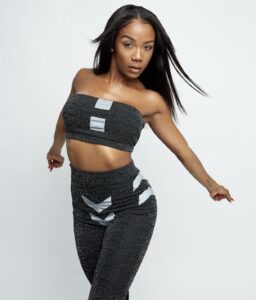 Della Hamby is a big deal in the dance world! She is rooted in Detroit, Michigan, and has had the opportunity to work closely with today's most mainstream artists. She has shared the stage for Beyoncé, Chris Brown, Lil Wayne, Taylor Swift, Nicki Minaj, Snoop Dogg & many more. Della is a Wayne State University graduate, artist achievement award recipient & adjunct guest repertory artist holding a Bachelor's of Science degree in Dance.
As a verified influencer, professional performer, choreographer, actress & movement mentor, she became known as "Damn Della" for style of movement. She has appeared on America's Best Dance Crew & NBC's America's Got Talent and has remained in demand over a decade later. Under her belt is 11 major world tours, movies, music videos, commercials, awards shows, & magazine spreads. Currently, she is an aspiring entertainment attorney and plans to rise to fame in more avenues than one!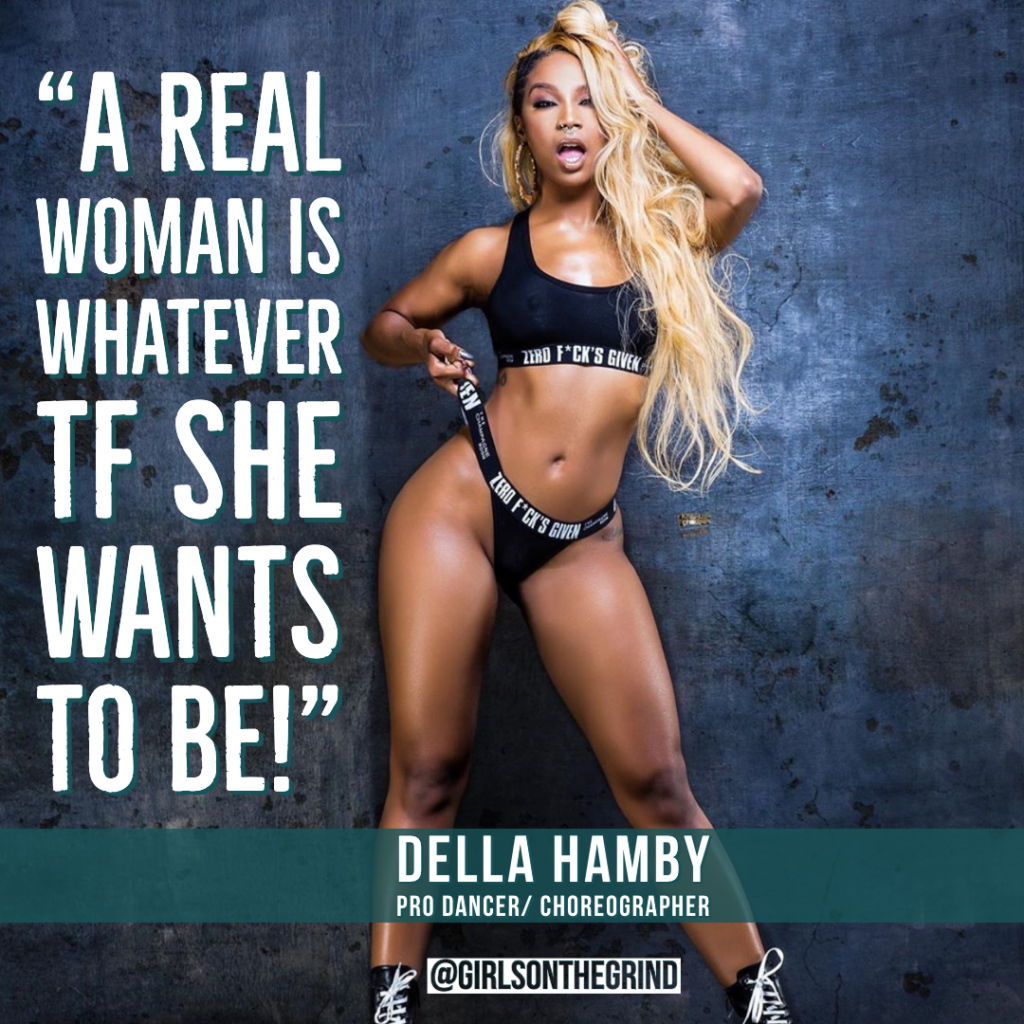 "Be Sexy, Not Stupid!

Della Hamby
Tell us how you got started.
I started my professional career with cheerleading, pageants & sports. Before I was really performing I was making balloon animals in the crowd. One summer I attended a convention that showcased me to agents and opportunities and I booked a singer/dancer role at a theme park in New Hampshire. The auditioning took off from there. Later I landed professional placements at Walt Disney World, then MTV's America's Best Dance Crew and finally my first Major world tour with Lil Wayne.
What is your daily Grind?
On my daily grind I wake up, pray for what I want, put on my makeup, do my hair, make connections and learn something new. I do a different full body stretch and meditate daily before bed but other than this I grind differently everyday.

What made you want to move to LA?
I appeared on MTV's ABDC Season 2. After filming in California I did not want to go back to Michigan so I went back to pack my things and drive to LA with a few friends.
I lived in LA for 11 years. After 11 solid years & 11 world tours, things feel full circle. Right before the pandemic, I moved back to Michigan. I got my degree from Wayne State University, did my thing in LA for 11 years, and was asked to come back to teach a commercial dance in heels repertory course at WSU but I still travel to CA for work every month.
How do you feel about the move at the beginning? What about now?
In the beginning when I was moving to LA I remember feeling indecisive and full of nervous excitement. I was finding myself, overthinking and just trying to make the best decision for myself. I took a leap of faith and I'm happy I did. Now I am cultured, I am powerful, I have purpose and I'm motivated to do more.

How did your family and friends feel about you moving?
My family was extremely encouraging about me moving to L.A. The distance was a little concerning but they were super supportive. My parents and a few of my friends would send me money to stay up out there.
Do you think men are intimidated by businesswomen?
Men are absolutely intimidated by businesswomen. I think there is conflict in wanting to feel needed more than wanting to be wanted.
I want a man right now but I don't have one. I don't need one. Whenever I feel like I need a man for anything other than needing him because I want him I do not want him anyway.

Do you feel that ambition affects relationships?
Yes. Ambitious women are extremely determined which takes sacrifices. I think a certain amount of ambition and sacrificing scares men away.
Is it hard to choose between starting a family and starting a business?
I would love to start a family! If I had a partner it would not be hard to choose between starting a business and starting a family. I would choose a starting a family.

What inspires you to grind?
I am inspired by real life situations. If I am or someone I know is going through something, or if I saw something intriguing I draw from that when I'm on my grind. I keep those real things in the back of my mind and work towards them while I grind.

What are some of the exciting things you get to experience in your field?
Being a professional dancer I get to travel to some amazing places. It's exciting to live the lifestyle of the rich and famous and do what I love most. I get to connect with people that become family, meet dance fans, and shop! Other exciting things are work closely with artist and get to know them personally. I get to be trusted inside their homes and around their families and friends and create great moments and memories with them. I also get to be in a pretty cool position for black women. I do not take it for granted. I make sure I represent!

What changes have you made from the beginning of your career to now?
From the beginning of my career to now I've added a ton of new skills to my arsenal. I am represented by a manager in addition to my commercial dance agent and I am performing with purpose. I've changed my outlook and my atmosphere in the industry and I'm ready to take my brand to the next level.
What are some of your accomplishments thus far?
I've worked closely with today's most mainstream artist and most eminent projects. I've even lived and met one of my best friends at Walt Disney World, the happiest place on earth! I was honored with the Career Achievement Award in the field of fine arts from , the College of Fine, Performing and Communication Arts (CFPCA) at Wayne State University and have since then been brought back to teach WSU dance majors.
I've been asked to teach at The University of Michigan. I've choreographed pieces performed by Teddy Riley for The Soul Train Music Awards Show as he was honored with a tribute. I've shared space and energy on stage with the greatest entertainers alive. I've gotten to choreograph and cast mainstream music videos. I've held international pageant titles, been honored as homecoming and prom queen in which I am still flattered, honored as scholar-athlete and an all-star cheerleader, and much more.

Do you have a day job or did you have one in the beginning?
In the beginning I had several day jobs. When I moved to California I used to work at 24HR Fitness, Victoria's Secret, Fredrick's of Hollywood, and audience casing agency, and I did bottle service and go-go danced at nightclubs in Hollywood. Before moving to California I worked at Subway and in retail at Forever 21, Wet Seal, Bath & Body Works, The Metro Detroit Airport and other summer jobs.
What are some of the pressures of being a dancer?
Some pressures of being a professional dancer outside of the physical exertion is having to sacrifice family functions and chose between work and family at times. It gets tough to balance healthy relationships, but it's possible. There's a ton of pressure to present! There are perfect body pressures and pressure to create content. For example in quarantine, I can speak for most dancers when I say we feel a huge weight to deliver content right now. My body hasn't had an opportunity to get much rest prior to this so I've been coaching myself into a place that feels okay that I take this moment to relax and reflect. There's a pressure to have a close to perfect body. My costumes are usually barley there so I have to make sure when I appear in front of crowds that I look good. I am hitting steps with superstars nearly naked so Imagine the amount of pressure there is to look amazing.

What are your goals and aspirations?
My goal is to create and operate a creative dance education college. I aspire to teach industry prep and creative education courses at my own school and study to become an entertainment lawyer with a big family!

What are you most looking forward to in your career? I'm most looking forward to seeing how I've inspired this generation. I can not wait to feel the reward of my trainees checking dreams off of their bucket list. I get attached to the dancers I teach so I'm just really excited to see them succeed.
What were are some of your biggest performances and how did you get them?
Some of my performance/appearance credits include Beyonce', Chris Brown, Nicki Minaj, Cardi B, Taylor Swift, Travis Scott, Snoop Dogg, Lil Wayne, Neyo, Trey Songs, Tyga, Ty Dolla $ign and many more. Most I would get by audition or direct booking. I've choreographed and assisted with choreography for Wayne State University, Teddy Riley, Ashanti, Soul Train Music Awards, Mila J and I've assisted with casting for Big Sean, The Migos, Rae Sremmurd and more via invite by E Mills of Mill Ticket Entertainment.

What are some roadblocks you have had to overcome?
A roadblock I've had to overcome is being fired. A certain amount of trauma is accompanied by someone suddenly dismisses and discharges you and you do not know why. I've had to just push through whatever pain and push through the perpetual jealousy and disadvantages that placed in front of me.

What is the hardest thing about being a girl on the grind?
The toughest thing about being a girl on the grind is being a girl out here grinding around gate keepers. The grind itself is such hard work when people take advantage of positions of power it makes it tough to reach levels you know you deserve. Watching seats be given away at tables to people that have not worked as hard as you have to sit there is one of the hardest pills to swallow.

Do you have any words of inspiration to the Girls on the Grind?
My words of inspiration to Girls on the Grind is that a real woman is whatever she wants to be! Be sure to show up as yourself every single time because being real is always recognized. Take your time to forever be a student of your craft and feed it every chance you get. I'd suggest learning as much as you can on every subject to sequentially grow. There is a lot of politics in this industry so it is very important to be multifaceted! If you don't know the answers ask questions and stop asking for so much advice from so many people who've never done this! YOU GOT IT!
Della will be on GOTG TV Live Thursday May 14, 2020 for some girl talk!
Follow @DAMNDELLA on Instagram