GOTG
GOTG: Fitness Boxer Angela Jennings
By
|
Boxing bombshell Angela Jennings, co-founder of BOOMBOX created the latest hip hop inspired space for fitness boxing. After finishing school with an accounting degree in Memphis, Angela moved to D.C. for bigger opportunities and began working at a global accounting firm.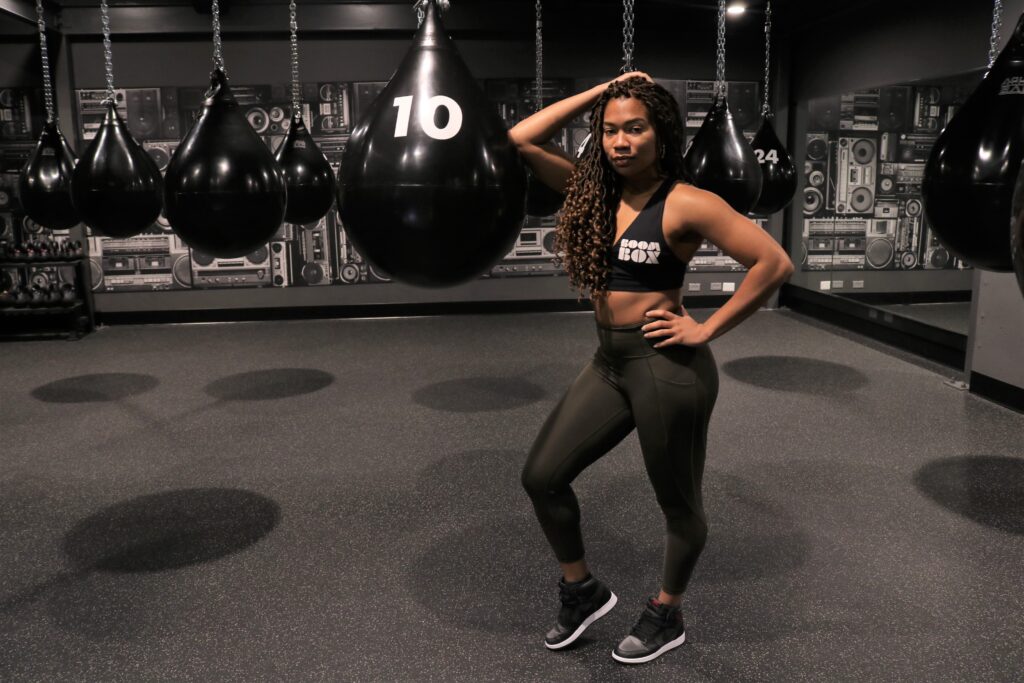 Although the move was not easy with no support from family and rough in the beginning, Angela was determined to keep pushing. Friend, and now co-founder Reggie introduced her into boxing, it was then she knew she wanted to do more in the fun sport. With always having an interest in food and fitness, boxing motivated her to launch her first boxing studio in 2019, called BOOMBOX.
The powerhouse studio is filled with hip hop workouts for all people from different fitness backgrounds offering 1-on-1 training and theme workouts guarantee to make you sweat. Since opening in D.C.the studio has successfully been growing and gaining the interest of people including high profile client Angela Rye and many others.
Tell us how you started your career. I graduated in Memphis, TN with a Masters in Accounting. After working for a short period at home, I moved to DC at the guidance of a mentor and ultimately ended up at a international accounting firm.
What is your daily Grind? I wake up, I go to boxing training with my trainer by 6 AM, I check in on my boxing studio and handle some administrative items before the day starts, usually between 8-9 AM, I start work at my full-time job about 9 AM and I head to my studio in the evening to coach at 6 PM.

How long have you been in Washington D.C. ? I have been in DC roughly 12 years. I moved to look for career opportunities in my field outside of Memphis.

How do you feel about the move at the beginning? What about now? I hate it. I was depressed, broke and unsure. I wanted to go back home. Today, I am happy I am in DC and appreciative the opportunities, cultural exposure and relationships that come with it.

How did your family and friends feel about you moving? My friends were cautiously supportive. My family was not supportive at all.

Are you in a relationship? Do you have someone for me? Lol. I'm currently single.

Do you think men are intimidated by businesswomen? I hear that a lot, especially as one of the reasons why I may be single. I don't know if that is the case generally when it's the right kind of man, but I have definitely experienced it before with a couple of guys.

What inspires you to grind? I want to be financially free. I want to live in full abundance, supporting my family, experiencing new things, and doing something that I am passionate about.

What are some of the exciting things you get to experience in your field? In my day job, I get to meet people from all over the world on my teams who share different experiences and beliefs. I learn so much from them. Some of them are now lifelong friends and supporters.

What changes have you made from the beginning of your career to now?Now I don't focus as much on the corporate grind, I am honing the skills I learn there to be able to make my side hustle become my full time income generator.

What are some of your accomplishments thus far? I have climbed the ranks in my firm. I have started my own business – BOOMBOX Boxing club – and have been featured in national publications in very short period of time.

What are some of the pressures of being a (your occupation)? It's a very fast paced environment and very demanding. At one point I was traveling 100% of the time and working 80 hours a week. It was exhausting.

What are your goals and aspirations? To be financially free and supporting a community of women and girls to become the best that they can be while working daily in the in the field that I love – Fitness! I want to continue to motivate others and be an inspiration.

What are you most looking forward to in your career? Reaching more people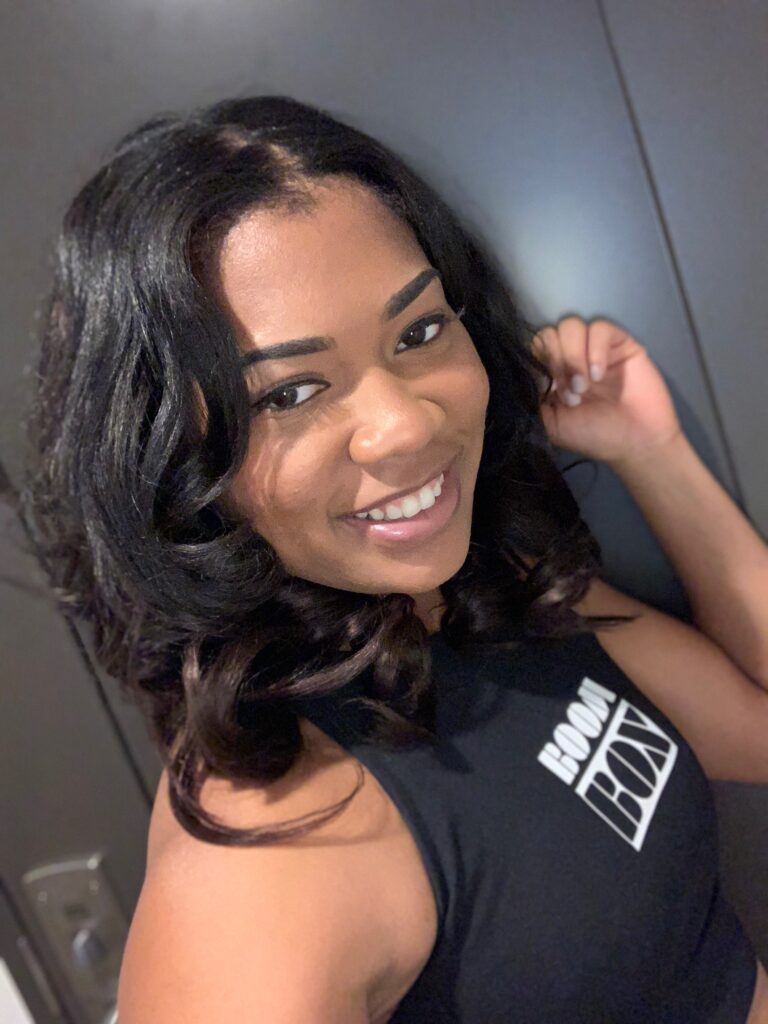 What are some roadblocks you have had to overcome? Impostor syndrome. Trying to manage it ALL and find balance. Trying to learn that its OK to give myself a break or take a day off. Being a woman, sometimes people don't take me seriously.

What is the hardest thing about being a girl on the grind? Trying to figure out if you can have it all or if you have to choose.
Do you have any words or inspiration to Girls on the Grind?
I'm a huge supporter of ladies that want to inspire others to create their own path because no one will create it for you. -Angela Jennings, CEO BoomBox Gym
Be sure to keep up and check out Angela Jennings: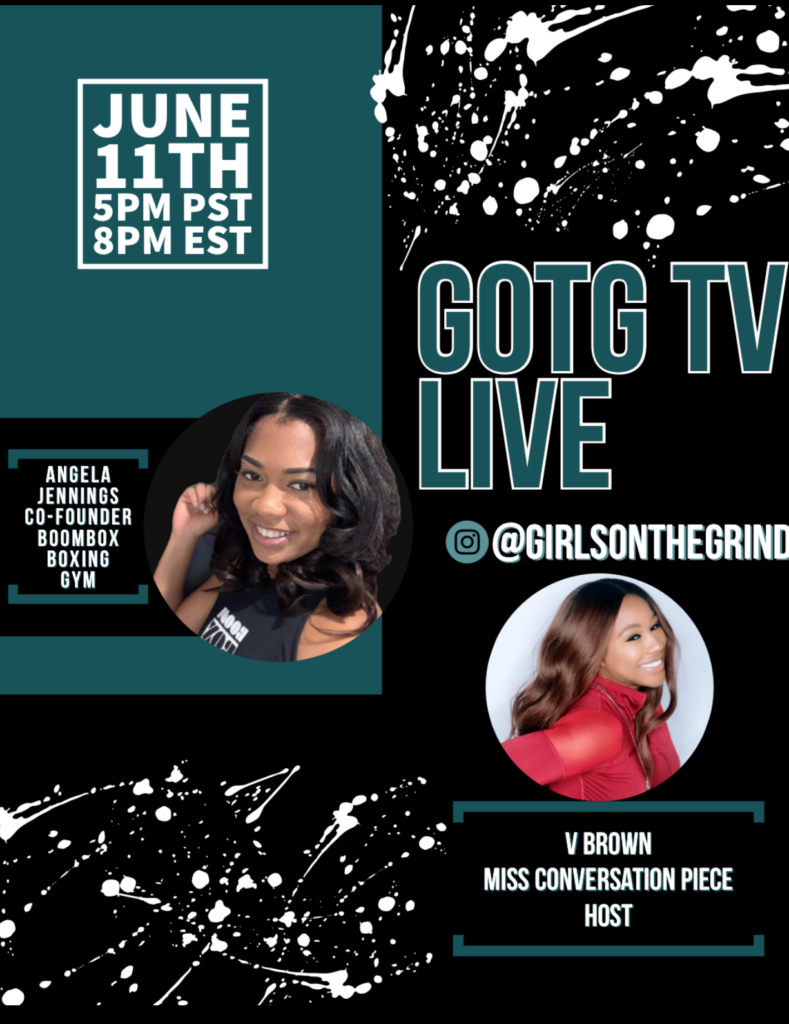 Angela on social media: www.instagram.com/aj_boomin/