GOTG
GOTG: Chef Melissa Speaks on the Culinary Arts & Her Melnificent Wingz
By
|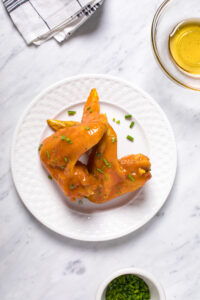 Cooking at twelve alongside her mother is how private chef Melissa Cottingham fell in love with the culinary arts. Originally from Memphis, TN, Melisa packed up her recipes and headed to Hollywood, CA where she is currently the owner & CEO of the pop-up restaurant, Melnificent Wingz, a mixture of traditional and gourmet style chicken wings.
However, making a name for herself in and gaining elite clients didn't come without trials and tribulation. Every Girl on the Grind has had to find a way to stay strong and overcome obstacles. Her life changed forever when her beloved mother was diagnosed with stage 3 breast cancer & passed away. Trying to cope in the darkest moments of her life, Melissa found strength after finding her mother's cookbooks and hand-written recipes.
Using what she learned over the years, Chef Melnificent can prepare numerous cultural cuisines. Her skills have had graced the palates of Tracee Ellis Ross, Larenz Tate, Anthony Anderson, Shaunie O'Neal, Jenifer Lewis, and many more. With a smile and personality that can't help but charm you, Melissa's courageous story of triumph, strength, and love will inspire you.
Tell us how you started your career.
I have been cooking since I was knee-high. It wasn't until my mom passed that I realized it was my passion, something I should have followed all along. I enrolled in culinary school, worked my kitchen job and created in my free time. [I was] always working toward the official opening of my business. I'm a pop-up restaurant and catering based business now but will be getting a physical location soon.
What is your daily Grind?
My daily Grind is serving the best traditional & gourmet chicken wings at my business.
How long have you been in LA & what made you want to move to this city?
I have been in Los Angeles for 8 years and I love it! I knew I was destined for greatness and I had to go where opportunity awaited.
How do you feel about the move at the beginning & what about now?
When I first moved to LA I was so excited, a country girl in a big city but it didn't take off for me quickly as I imagined. I was a hard worker & I'll put in that work to get to where I need to go so I stuck with it and continued to show up at networking events. Now, I need 10 of me lol It's all about consistency, persistence, and determination.
How did your family and friends feel about you moving?
My family and friends were supportive of my move from Memphis to Los Angeles and my mom and sister actually moved out here as well.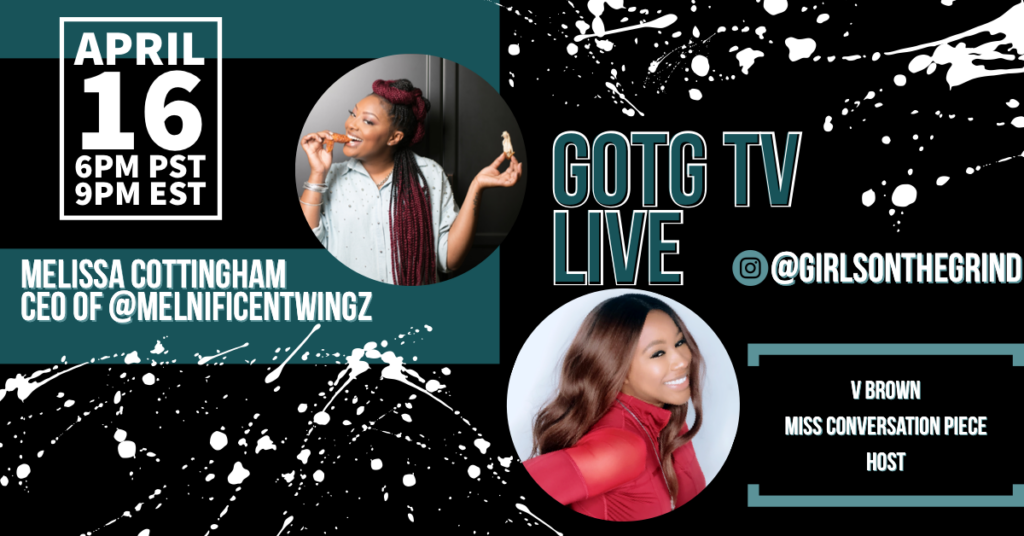 Favorite Quote:
"Trust in the LORD with all your heart, and do not lean on your own understanding. In all your ways acknowledge him, and he shall direct your paths.

Proverbs 3:5-6
What inspires you to grind?
My mom, the late Beverly Cottingham, inspires me to grind! She sacrificed so much for me and I owe her by continuing to make her proud and evolving to the amazing woman and Boss she raised me to be.
What are some of the exciting things you get to experience in your field?
Some exciting things I get to experience in my field is I get to meet some amazing and interesting people from all walks of life. I've never worked an event where I didn't laugh my head off or met someone that I don't still talk to today. I also get to attend a lot of food-related events and conferences and that is always fun because I love food!!!
What changes have you made from the beginning of your career to now?
The changes that I have made at the beginning of my career to now would be my branding structure. I am a personable person so I now take a more direct approach when building my customer base, participating in food festivals and not solely using one strategy but implementing multiple.
What are some of your accomplishments thus far?
I have made so many accomplishments thus far being in business just shy of two years. I participated in the food festival Taste of Soul twice and I sold out twice last year. I've catered for some of the top names in the music, film and TV industry, and I've worked alongside some amazing fellow chefs.
Do you have a day job or did you have one in the beginning?
I currently do not have a day job, my sole focus and income is from my business. I had a few day jobs when I moved to LA which included a receptionist at a voiceover agency and I worked as a set production assistant in the TV and Film industry. I also used to clean apartments as a side hustle.
What are some of the pressures of being a chef?
Some of the pressures when being a private chef and business owner is the consistency. When it comes to being hired for events and catering jobs you never really know unless it's with your regular clientele. Finding the balance to have time to create, run a business and the time to produce in the same week can be hard but I make it work because it's what I love to do.
What are your goals and aspirations?
My goals and aspirations are to make Melnificent Wingz a household name, travel the world with my brand and have a brick + mortar location in every city nationwide and a minimum of 7 overseas.
What are you most looking forward to in your career?
I'm most looking forward to the many lives that I will touch by putting my heart into my food. Food is good for the soul and how my food makes someone feels is memorable.
What is the hardest thing about being a girl on the grind?
The hardest thing about being a grind on the grind is nothing for me. I'm so focused, refuse to take no for an answer, and when I set my mind to something I will achieve it.
Do you have any words of inspiration to the Girls on the grind?
My words of inspiration to all the Girls on the Grind is to stay faithful, trust God and know that he will ALWAYS make a way out of no way!! To just always follow your heart and gut when it comes to opportunity and business deals. Be confident, be YOU, and you can achieve anything u want despite any opposition!
SOCIAL MEDIA LINKS:
@melnificentfoodie
@melnificentwingz
Or order from Melissa at [email protected]